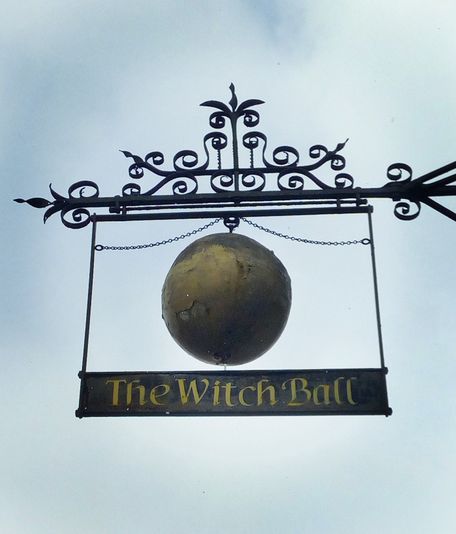 On Wednesday I was in Oxfordshire and had a bit of spare time, so I called into Thame. Its a lovely market town with some interesting buildings. I was struck by two brilliant signs, 'The Witch Ball' and 'The Six Bells'.
After seeing the signs I wanted to find out more.
The Witch Ball hangs outside a building that was once called The Anchor. This made me think that maybe it had once been coloured to look like a globe, but further  delving has made me think that it may once have been linked to the silk trade.
In the 18th century balls signified quacks (rogue doctors) and fortune tellers.A witch ball looks like a big christmas bauble, usually made from coloured glass. It was mainly hung in an east window to ward off evil spirits, thinking that they would get caught in their own reflection.
A single golden ball was the sign of a Silk Mercer.Silk weaving and winding were small industries taking place in Oxfordshire with Henley on Thames ,only 20 miles away,also having a silk industry.The sign of a golden ball was later taken over by Berlin Wool shops. 
Thame has had a Tuesday market from at least 1180 ,with wool and possibly silk being important trades.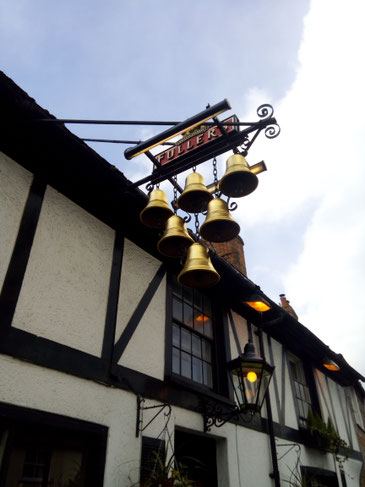 The Six Bells is another 3D sign. Bells were also supposed to have magical powers and were also used to ward off evil powers. The general thought is that it is linked with the church and the British love of the sound of bells. St Mary's Church, (nearest to the pub) now has eight bells, but originally had a ring of six.  England was actually known as the 'ringing Island' and Handel said that the bell was our national musical Instrument.
Other pubs in Thame and their possible meaning of their name -
The Birdcage Inn - Originally called the cage.
The Swan Hotel - The Swan is an emblem of Innocence
The Thatch - It is a thatched Inn.
The Black Horse - Could be linked to the fair that is held in Thame. There is often one painted black horse on a round about.
The Cross Keys -St Peter/ The papacy.
The Falcon - Queen Elizabeth- The House of York - - Henry V111
The Star and Garter - Refers to the Insignia of The Order of the Garter. The Star is the  Emblem of our Lady ( Stella Maris) - 
The Rising Sun - House of York
The Spread Eagle Hotel - Holy Roman Empire.