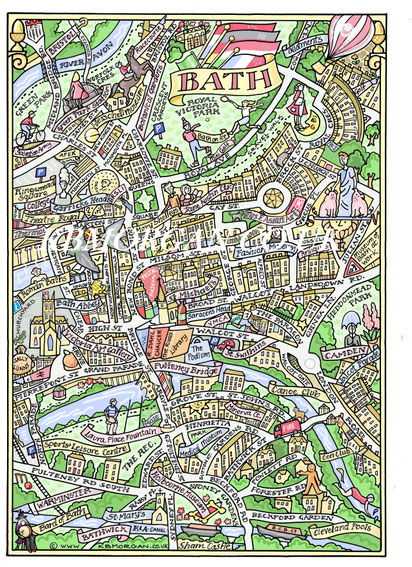 Bath - Spa town, famed for it's Georgian architecture and for being a World Heritage Site.
Acorns - Stone acorns decorate the parapet of the Circus. There is also a frieze of 528 carvings taken from a 17th century fortune telling book .
Uranus -William  Herschel (1738-1822), discovered Uranus, from the house where the Museum is now. . 
Pulteney Bridge - Designed by Robert Adam 1769
Broad Street- Broad looms with cloth sold by monks.
Northumberland Place - 'The Coeur de Lion' Baths smallest pub.
The Huntsman- Oldest Shopfront in the city.
Abbey Green - Oldest planted tree in the world 1793
Roald Dahl- The Landlady
R.B.Sheridan--The Rivals
Two tunnels Greenway - Longest cycling and walking tunnel in UK
Bath Chaps - Salted and smoked cheek and jawbones of pigs
Green Street - Where there used to be a bowling green.
Sham Castle - Folly built on a hill
Flags - Twin towns., Aix-en-Provence in France, Braunschweig in Germany, Kaposvar in Hungary and Alkmaar in the Netherlands.
Hot air Balloon - Balloon trips leave from Victoria Park.
Cyclist - National cycle route 4.
Moon and sun - John Wood the Elder (1704-1754) was the architect of The Circus and his son John Wood the younger (1728-1782) built The Royal Crescent. John Wood made the circus represent the Sun, The crescent the Moon and queens Square the Earth.
Grey lady - Ghost in the Garricks Head. This pub was once the home of Beau Nash (1674-1762).Master of ceremonies and fashion leader.
Stamp - Bath Postal Museum. The worlds first stamped letter was sent from here on the 2nd May 1840.
Biscuit - A Bath Oliver is a dry biscuit or cracker invented by Dr William Oliver of Bath in 1750.
Stars - Sarah Siddons , Bill Bailey - Comedian and Strictly come dancing winner , Ken Loach -Film director
Frankenstein - Mary Shelley moved to Bath in 1816 and wrote most of Frankenstein while she lived here.
Victoria Park - Opened by Princess Victoria when she was 11. It has a 'Green Flag Award.'
Jane Austin - ( Lived in Bath between 1801-1806.) While here she wrote Northanger Abbey and Persuasion
Badger - Brock Street, Old line of Psychic energy.
Pigs - Prince Bladud ( Mythical King ?),  was said to have discovered the healing properties of the wells in 900 BC. He became a swineherd after being banished from court and founded Bath. He practiced and taught necromancy, attempted to fly but died after falling and breaking his neck.
Canterbury Tales - Chaucer wrote about the wife of Bath, who was a clothmaker here.
Compass - Half a Gorgons head ,in The Roman Baths. Also logo for University of Bath.
Jollys - 'Old lady of Milsom Street', Europe's oldest department store.
Sally Lunns- Type of teacake, first mentioned writen in name in 1772. Bath buns are smaller and sweeter, created for The Great Exhibition.
Orange - Orange Grove, named after the 1734 visit of William of Orange., 
Runner - Amy Williams, originally a runner and won Gold medal at the 1910 Olympics in ' Skeleton.'
Odd costume by fashion Museum- Peter Gabriel, musician who loves costumes. His 'Real World Studios' are not far away in Box.
Man with Umbrella- Cover from Album by Tears for Fears, who formed in Bath in 1981.
Shorthand - Sir Isaac Pitman, inventor of shorthand.
Hyacinths in bucket - Patricia Routledge, actress who plays Hyacinth Bucket.
Morph - William Harbutt, inventor of plasticine.
 Swimmer - Cleveland Pools, Oldest swimming Lido in England.
Bard of Bath - Annual competition for the best poet, storyteller or singer in Bath. Marco was made the 1st honourary Bard of Bath
Bottle - Bath Ales, started in 1995 in Wincanton in Somerset and now has a pub in Bath..
Glass - Bath Aqua Glass, Glass blowing studio.
Bath Abbey - Founded in 7th Century rebuilt in 12th and 16th C.
Edgar of England crowned at Bath Abbey AD 973
Hoard of silver coins found at the Gainsborough Bath Spa Hotel
Abbey Church House- Oldest surviving Elizabethan house in Bath 1560's. Remains of 12th C Leper Hospital beneath it.
www.visitbath.co.uk  www.romanbaths.co.uk 
www.kbmorgan.co.uk
thedecorativepainter@gmail.com