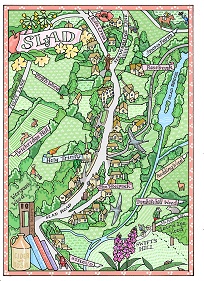 The village in Cider with Rosie, written by Laurie Lee, who lived, drank and is buried here.
Rosebank- Laurie Lee, his mother and six siblings moved to Bank Cottage in 1917.
Book -Water over stone by Francis Horovitz-Poet. 
Book - Midsummer morning Jog Log by Michael Horovitz.
Book - Earth is our business by Polly Higgins , Scottish Barrister, author and environmental lobbyist..She tried to create a law to criminalize ecological damage.
Badger with coat on - Fence posts near the batch on Swift's Hill were painted by a local artist to oppose the Government badger cull.
Bulls Cross-A three hectare common managed by ...Probably one of the most famous commons in Britain having been mentioned in Cider with Rosie. It was once a wide bare area of ground with a hangman's gibet, which would have easily been seen from a good way away. One of the roads passing by is an ancient Salt way.
The Woolpack- Old country independent pub.
Tiny snails - A rare snail, Lauria sempronii lives between Swift's Hill and Laurie Lee Wood.
Wild Orchids- Over 13 species of wild Orchid can be seen on Swifts HIll.
Racehorse- Tom George Racing National Hunt Racecourse.
Signposts- Laurie Lee Wildlife Way. Five mile circular walk with poetry posts
Snow's Farm-Nature Reserve at the head of the Dillay Valley. It links Frith Wood and Swift's Hill to make a circular walk.
FrithWood- Frith is a saxon word meaning wooded enclosure..The ancient wood became a a Gloucestershire Wildlife Nature Reserve in 1987. In the 1700's Benjamin Hyett built an arcadian retreat called Pans Lodge in the wood. All that can now be seen is a mound.
Swifts- Swift-s Hill, SSSI Glos Wildlife Trust bought the land from Mr F R Elliott in 1967..
Redding Wood- leading to Catswood, where a two headed sheep can be seen between flashes of lightning.
Laurie Lee Wood- Nature Reserve. Previously called Trantershill plantation. It was bought by Laurie Lee in the 1950's, then sold by his daughter to the Glos. Wildlife Trust.
Maps and cards available via my shop page.