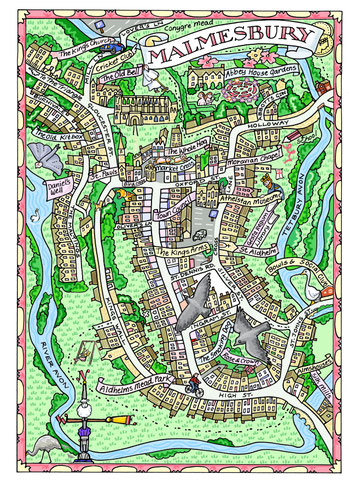 Tomb of King Athelstan- First King of England, died in 939.
Book- William of Malmesbury (Latin: Willelmus Malmesbiriensis; c.1095 – c.1143) was an English historian.He spent his whole life in England and his adult life as a monk at Malmesbury Abbey in Wiltshire, England. He wrote Gesta Regum Anglorum, The chronicle of the Kings of England.
12thC Abbey- In AD 603 there was a nunnery on the site. Founded in 675 by Maildubh an Irishman. Scheduled Ancient monument.
Daniels Well- footpath by 18 Gloucester Street. Named after a monk called Daniel of Winchester , who bathed in cold water every day.
Elmer of Malmesbury- Flew a simple hang glider. He flew over 180 metres before landing and breaking both legs.
Birds- Natives of Malmesbury are called Jackdaws.
Emu - Malmesbury Animal Sanctuary.
Naked couple -The Pollard family who once lived here.-Abbey House Gardens 
Vacuum -Dyson
WOMAD Festival at nearby Charlton Park
Old Bell Hotel- Oldest purpose built hotel in England circa 1220 
Once site of Iron age Fort
Westport St. Mary was a village west of malmesbury, now part of the borough of malmesbury.
Twinned with Niebull in Germany and Gien in France.
Sheep - History, Wool spinning and weaving. then centre of lace making.
Pigs- Escape of two Tamworth pigs in January 1998. The Tamworth Two.
Attempted the world record for largest pillow fight
Carnival in August
Malmesbury Victoria F.C. play at flying monk Ground.
Malmesbury Marlins-Swimming club.
Cricket Club
Vicar on a scooter - Occasionally turn the inside of Malmesbury Abbey into a skate park.
Market Cross- 1490 nicknamed The birdcage.
Tower House - Said that Henry VIII dined there.
Flag - Rear Admiral ,John Luce.
Tiger-Hannah Twynnoy- Barmaid of a pub that was called The White Lion, was killed by an escaped tiger. She may be the first person in Britain to have been killed by a tiger.
 Jaguar XK120- James Scott Douglas- Racing driver and Baronet.
Broomstick  - Thomas Hobbes, philosopher born in Westport 1588. In 1651 he wrote a book called Leviathan, about social contact theory- the authority of the state over the individual.Hobbes didn't believe in witchcraft but he did believe in the punishment of witches, so  14 accused, 4 tried and 2 were hanged.
Goose - Goose Bridge
Coins - Malmesbury coin hoard- 1266 roman coins
Golden Ball - In Medieval times the ball on the  top of the spire was struck by lightning  . The ball fell onto the High Street .
Aldhelm - Saint Aldhelm,the first Saint of Wessex, nephew of King Ine of Wessex.. He may have been the first to have built a church organ.
www.kbmorgan.co.uk